HOTEL IN CATTOLICA ON THE ADRIATIC COAST
Choose your hotel in Cattolica, here everything is designed for those who decide to spend beach holidays, a special place where they can have fun but also relax.
Cattolica is full of hotels and hotels for every need. You can choose between seaside hotels and swimming pools, family hotels, 4-star luxury hotels, couples and young hotels, cheap, in short, there's everything. Each hotel offers a myriad of services and different treatments to make your holidays as special as you have always imagined them. It's not enough for you to choose the one that's right for you!
Cattolica is lively and full of events, the beach is wide and well equipped, the sea is warm and clean with a shallow and safe bottom; traditional cuisine is a real attraction for the palate. Nothing is missing in order to feel pampered.
CATTOLICA HOTELS OFFERS
Select and book the hotel with the best offers for your holidays in Cattolica
Hotel Villa Pozzi
Alpini Gathering Rimini 2020
Valid from 20/11/2019 to 10/05/2020
For the historic Alpini gathering to be held from 7 to 10 May 2020, our Hotel Villa Pozzi offers special treatment!
from € 40,00 per person per day
Hotel Aquarius
New Year's Day 2020 To Catholic
Valid from 28/12/2019 to 06/01/2020
Come and admire Cattolica in an unusual guise, wrapped a magical atmosphere made of lights, illuminations, craft markets and typical products.
from € 69,00 per person per day
Hotel Kursaal
Fairs Conventions 2019 Rimini
Valid from 09/10/2019 to 21/01/2020
For the Rimini Fiere 2019/2020 trade fair events, the Hotel Kursaal **** in Cattolica promotes an ad hoc convention
from € 40,00 per person per night
Hotel Negresco
Early Booking Summer 2020
Valid from 02/12/2019 to 19/09/2020
Book in advance your holidays, you can save up to 10%.
Hotel Negresco
Blue Weeks 2020
Valid from 20/06/2020 to 02/08/2020
Special weekly prices in June, July and August
from € 65,00 per person per day
Hotel Negresco
Special Deal All Inclusive June
Valid from 01/06/2020 to 04/07/2020
Holydays without thoughts!
Drink Included
Beach Included
from € 70,00 per person per night
Hotel Aquarius
Christmas Special 2019
Valid from 23/12/2019 to 27/12/2019
You can admire the city wrapped in a magical atmosphere made of lights, typical lights, with craft markets and typical local products
from € 48,00 € 48,00 per person per day
Hotel Patria
Blue Weeks 2020
Valid from 01/06/2020 to 21/09/2020
For the aforementioned Blue Weeks, you can have the choice between "All Inclusive" or "Soft Inclusive" for a small fee.
from € 378,00 per week
Residence Ascot
Residence Near The Sea !!
Valid from 19/09/2019 to 31/01/2020
The Residence Ascot is located in a quiet area 50 meters from the sea, just cross the street and you are already on the beach!
Hotel Universal
Book Your Holiday In Cattolica
Valid from 28/05/2020 to 13/09/2020
Book now and save 15%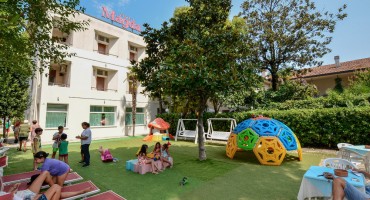 Hotel Magda
May Special - 2 Children Free
Valid from 22/05/2020 to 31/05/2020
All Inclusive € 45.00 2 children free up to 12 years Includes:
Free Child
Childs Reductions
Pool
Drink Included
Free Parking
Beach Included
from € 45,00 per person per day
Hotel Embassy
New Year In Cattolica
Valid from 29/12/2019 to 07/01/2020
Spend your New Year in Cattolica. Discover and appreciate the magic of the sea in winter. Our spa is at your disposal for moments of pure well-being.
WEBCAM

LIVE FROM CATTOLICA
EVENTS

IN CATTOLICA AND SURROUNDINGS
Cattolica Centro
, 47841, Cattolica
07/12/2019 - 06/01/2020
The Ice Queen ready to return to the streets of the city from 7 December 2019 to 6 January 2020
Misano World Circuit Marco Simoncelli
Via Daijiro Kato 10, 47843, Misano Adriatico
17/07/2020 - 19/07/2020
The date has been set: in July 2020 the World Ducati Week returns. The big Ducati rally, which every year calls together tens of thousands of passionate motorcyclists from all over the world, is ready to take to the track.